The second Schelling Study Prize has been awarded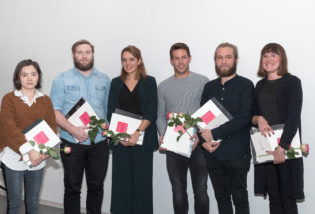 On November 15th, 2017 the Schelling Study Prize has been awarded at KIT, department of architecture for the second time. Since 2015 this prize is awarded every two years for the best final theses. Eight master projects were jugded and honored with two first prizes and two appreciations.
Jury members were the Schelling award winners 2016 – De Vylder-Vinck-Taillieu architects and Doug Saunders – as well as the winner of the first Schelling student prize, Vicky Müller, the director of DAM Deutsches Architekturmuseum Frankfurt, Peter Cachola Schmal and Prof. Dr. Anke Karmann-Wössner, Stadtplanungsamt Karlsruhe.
This year's award of 2000 Euros was equally prized and went to Lisa Kahl und Damian Platten.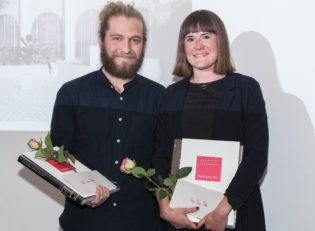 In her master thesis "In Balneis Salus – A bathhouse in Berlin" Lisa Kahl explores the terms "amusement" and "regeneration" by briefly looking at the past and intensively at the future, in context of the metropolis of Berlin, and compares it against the backdrop of heterotopia. This timeless need of the metropolitan is considered in detailed and skilful developments in urban construction and building style, exemplified by a bathhouse in the city centre. In the context of the legendary Admiral's Palace in Friedrichstrasse, a practical building approach taking space into account was chosen to account for this need. Therefore, the sophisticated way of settlement of the building is convincing. In addition, the complex cuttings and architectural grace of the interior and exterior design are also compelling. This shows perfectly in every way how traditional bathing culture can still be a special source of amusement relevant today even when included in the structure of a vivid metropolis.
The hard boundaries of space and time disappear in the modern world of work. Digitisation has catalysed this dissolution. Damian Platten's master thesis "Cloud City" is an experimental architectural construction within which both familiar and new concepts of work and home can be simulated, tested, and optimised. The renovated structure of the Postal Logistics Centre at the Basel train station, which extends across the track system, forms the foundation of the project. Basic building blocks like carpet, block, latch, and point derived from classic office construction are overlaid on this foundation, as well as a building infrastructure with facade.
In addition to the first prize two appreciations were expressed to Andreeva  Andreyana and Jacqueline von Rooy.
Andreyana Andreeva's master thesis "A cultural campus in the centre of Stara Zagora in Bulgaria deals with the heritage and diverse history of her hometown, Stara Zagora in Bulgaria. The project transforms and adds to the heart of Stara Zagora by turning the existing commercial district into a multi-faceted and vital cultural campus.
Jaqueline von Rooy's Master's thesis "European Embassy in Istanbul" went through an unexpected shift during its creation, influenced by the realpolitik of the day, and couldn't be more topical or relevant.  The conscious decision to place a European embassy at the Eurasian crossroads of Istanbul was intensively analysed and discussed in detail from both an urban planning and sculptural standpoint.
The four further nominated master projects are:
Jonas Frammelsberger
Swimming Pool on Lake Constance
Fabian Kraus
Mühlacker – One city, one history
Thomas Schmitz
New Commonism
Zou Shixian
New multi-generational living concept in China
Congratulations!