Trude Schelling-Karrer (1919–2009) Founder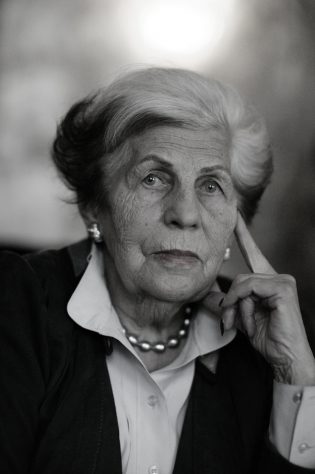 Trude Schelling-Karrer was born in Karlsruhe on May 6th, 1919. Following her training as a costume designer at the Baden State Theatre, she was engaged at the Gau-Theatre in Saarbrücken, which was closed in 1942 due to its proximity to the front and the effects of the war. She assisted the stage designer Gerhard Zircher at the Baden State Theatre in Karlsruhe until 1943, when the theatre too was destroyed during the war. After the war, Trude Schelling-Karrer assumed her first independent stage designs. After 1949 she principally worked as the stage designer at the Theatre in Baden-Baden, but also in Essen, Bonn, Basel, Bochum and Vienna. In 1958 she developed the permanent stage set for the Baroque Theatre of Schwetzingen.
Since 1956, Trude Schelling-Karrer was also active as an exhibition and interior designer. As Erich Schelling's partner in life and subsequent wife she worked with him from 1948 onwards.
In 1992, together with the art historian Heinrich Klotz, she founded the Schelling Architecture Foundation, whose chair she held until her death in 2009.